Fossil Creek
Introduction
The early 1900s brought a dam-building boom that converted over 600,000 miles of America's free-flowing rivers and streams into reservoirs. By the late 1960s, over 75,000 dams—designed for power generation, flood control, irrigation, and recreation—had significantly altered downstream riparian ecosystems for native fish, reptiles, birds, and other wildlife dependent on the natural cycles of free-flowing rivers. Many reservoirs became choked with sediment. Some—particularly those built more than a century ago—are structurally unsound. Recognizing the reality that for whatever reason they were built, dams have a finite lifespan, we have moved from an era of dam construction into one of dam decommissioning and river restoration. Fossil Creek, a major tributary of the Verde River, demonstrates the value of mitigating some of the effects wrought by a century of dam building.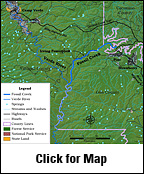 Once a treasure of the Arizona desert, with pools and waterfalls throughout its incised course, Fossil Creek went nearly dry after construction of a 25-foot concrete dam in 1909 diverted most of its flow to generate power. In 1945 the Federal Power Commission issued a 50-year license for the dam, the power plant and a reservoir named Stehr Lake. In 1992 Arizona Public Service (APS) applied for a renewal of the license. Following lengthy consultation with the US Forest Service, the US Fish and Wildlife Service, the Federal Energy Regulatory Commission and environmental organizations, APS agreed to decommission the dam and hydropower facility. On June 18, 2005, after nearly a century of absence, natural flows returned to Fossil Creek.
Located within the Transition Zone of central Arizona, between the Colorado Plateau to the north and the Basin and Range zone to the south, Fossil Creek forms the boundary between Gila and Yavapai Counties. Except for about 20 acres of private parcels, the creek flows through lands managed by the Forest Service, including the Mazatzal and Fossil Springs Wilderness areas.
Water Resources
Watershed runoff from snowmelt or precipitation through the Fossil Creek drainage varies greatly throughout the season. About 74 percent of the base flow of the creek emanates from Fossil Springs, the largest concentration of spring water discharge on the Mogollon Rim and one of the few remaining unmanipulated major springs in the desert southwest. The springs provide a relatively constant flow of about 46 cubic feet per second (cfs) from more than 100 orifices within a 1,000-foot stretch of Fossil Creek.
A high concentration of calcium carbonate and dissolved carbon dioxide forms travertine in Fossil Creek's channel. Travertine deposition over rocks, fallen wood and other objects, forms natural dams, creating steps and pools. Since construction of the diversion dam, however, much of the pre-existing travertine has deteriorated.
Ecological Importance
Deciduous trees dominate the lush vegetation in the riparian zone that offers potential habitat for six sensitive or listed plants. A total of 166 plant species have been recorded in the 50-acre Fossil Springs Botanical Area, located above the diversion dam. Fossil Creek also supports an abundant and diverse native fish community, with viable populations of six native fish species—headwater chub, roundtail chub, speckled dace, longfin dace, desert sucker, and Sonora sucker.
The diversity of macroinvertebrates (mostly insects, snails, and worms) in Fossil Creek is high compared to other southwestern streams. Macroinvertebrates are a key food source for fish, birds, and reptiles. To date, 147 macroinvertebrate species have been collected in Fossil Creek, including the endemic Fossil springsnail and the Page caddisfly.
The Fossil Creek Watershed supports a great diversity of birds, reptiles and mammals. The watershed contains five federally listed bird species, including the bald eagle, Mexican spotted owl, southwestern willow flycatcher, Yuma clapper rail, and western yellow-billed cuckoo. In addition, the area provides habitat for state and federal sensitive species including 6 mammals, 4 birds, 2 amphibians, 3 reptiles, 1 snail, 14 invertebrates, and 10 management indicator species.
Human History
Humans may have occupied the Fossil Creek watershed as many as 10,000 years ago. Archaeologists have conducted surveys in the drainage and adjacent areas since 1890, finding evidence of prehistoric use, including collapsed stone masonry structures, diversion dams, pit ovens, and petroglyphs. A number of historic sites reflect use by Yavapai and Apache hunters, gatherers and farmers, as well as by stockmen who drove sheep and cattle throughout the area. Although less than 3 percent of the cultural resources within the Fossil Creek watershed have been inventoried to accepted standards, all are considered eligible for the National Register of Historic Places, pending further evaluation.
Major human land uses within the Fossil Creek Watershed are recreation and livestock grazing. Currently there are seven grazing allotments that fall partially within the Fossil Creek watershed; five of these are actively being used.
Conservation
In the early 1900s, land management practices such as fire suppression and grazing, degraded the habitat surrounding Fossil Creek and led to excessive soil erosion. An estimated 25,000 cubic yards of sediment was trapped behind the diversion dam. Although the reservoir originally covered 23 acres, it eventually filled with sediment and was reduced to only 3 to 4 acres. The diversion dam crest will be lowered gradually, in order to allow the massive amount of sediment to be pushed downstream by storm flows. Release of this enormous sediment load poses a significant threat to native species.
Crayfish—introduced in Arizona in the 1970s—as well as non-native fish, compete with native populations for food. These non-native species became well established throughout Fossil Creek below the diversion dam. Although the dam caused significant damage to the riparian habitat, it prevented non-native species from migrating upstream to Fossil Springs. A native fish restoration project, completed in the fall of 2004, removed non-native fish in an attempt to restore a native fishery to all but the lower five miles of Fossil Creek. This multi-agency effort also constructed a fish barrier to prevent upstream migration of non-native species.
Increased recreational visitation likely poses the greatest threat to the Fossil Creek watershed. Impacts to campsites and trails, as well as introduction of non-native species, are of huge concern to land management agencies.
APS is transferring the water rights it has held since the early 1900s to the U.S. Forest Service. Some researchers view the restoration of Fossil Creek as a national case study in ecosystem restoration, as an increasing number of dams are being decommissioned.
Contributing Writers
Abe Springer and Jeri Ledbetter.
Photo © U.S. Forest Service
Links
Visitation
Fossil Springs Wilderness Area
Mazatzal Wilderness Area
Conservation
NAU Watershed Research and Education Program,
Fossil Creek Watershed Project
Bibliography